'Copshop' Review: "Spectacular Actioner Sizzles Off The Screen"
Posted On September 25, 2021
---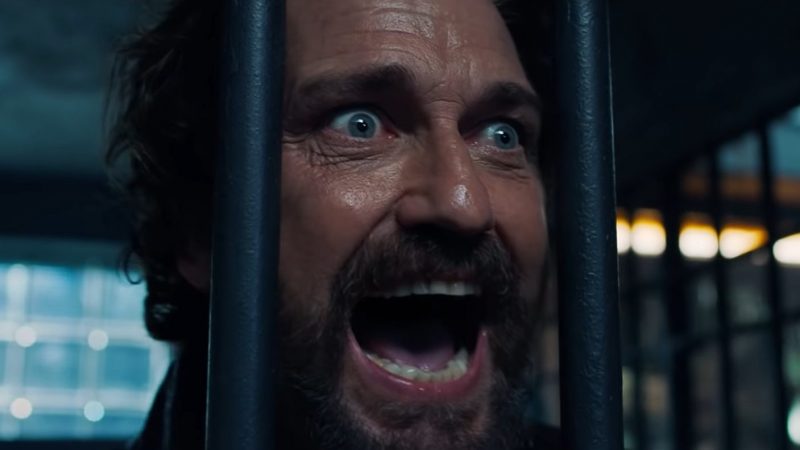 Joe Carnahan feels like a filmmaker right on the verge of having a cult audience. Films such as Smokin' Aces, The Grey, and even his gonzo adaptation of The A-Team come very close to being something great, or at the very least different from the pack. With the exception of perhaps The Grey, however, those films lack a certain element. Now Carnahan is back in theaters with his spectacular film Copshop. Wouldn't you know, it shows us what his films have been missing all along: cohesion.
Copshop immediately attracts attention for its bang-up premise. Fixer Teddy Muretto (Frank Grillo) is on the run from some very dangerous men intending to kill him. Nowhere left to hide, he punches rookie cop Valerie Young (Alexis Louder) to land himself the safety of a holding cell. He gets the holding cell, but it turns out the man in the cell across from him is none other than notorious hitman Robert Viddick (Gerard Butler). Suddenly, Valerie has to keep the peace between them as competing parties looking to get Teddy close in.

Certainly, the tone of Copshop recalls something out of the grindhouse era. Compact, mean, bound together by blood. The craft on display, though, is nothing less than artful. Carnahan's direction has the giddiness of a toddler, sparing no time on the unnecessary. He has one mode: high excitement. Aided by a simply marvelous script from Carnahan and Kurt McLeod, Copshop manages an ensemble of characters each more colorful than the last. Infusing the proceedings with a wallop of gallows humor, Carnahan and McLeod go from wild incident to wild incident. The story of two criminals going after each other with the idealistic cop caught in between sizzles off the screen in a way I can only assume it did off the page.
All the cast seems like they're having the time of their lives. Grillo, ever the journeyman genre actor, wears a scraggly man bun to turn in yet another solidly grizzled performance. Butler, on the other hand, gets all the scenery to chew on. The ever-underrated actor continues to earn his stripes by going full unhinged dirtbag. Yet, somehow he's still completely charming? Most viewers of Copshop are going to come away praising the performance of Louder. For good reason, she's the linchpin of making the whole movie work. All sarcasm, all competence, she's the audience surrogate in that she's trying to figure out what is going on while at all times reveling in the chaos.

Then, of course, there's my favorite character, Anthony Lamb (Toby Huss). This smooth-talking son of a gun, characterized by his propensity for violence, is the kind of wildcard you only see in genre film. Being such a hard genre picture, though, Copshop does show its limits in regards to a lack of definitive commentary on the police state we currently live in. It's unfortunately light in its commentary beyond "everyone in this movie is a bad person in some way or another." It's that same sentiment that makes the film work, though. 
Copshop is all about watching awful (well-written) characters being thrown together in a cinematic fishbowl. We know that they're all eventually going to explode into violence. However, it's the fun of watching them get there that counts. I liken it to playing simulation games such as The Sims. You're watching everything click into place before the picture ends and you walk out with an adrenaline rush. Such is the power of genre film. In a way, Copshop is the type of movie so many of us wanted to make as teenagers, only refined to perfection. – James Preston Poole

Rating: 10/10
Copshop is now playing in theaters.
---
Trending Now