'The Irishman' Review: "The Greatest Disappearance In U.S. History Comes To Life"
Posted On November 21, 2019
---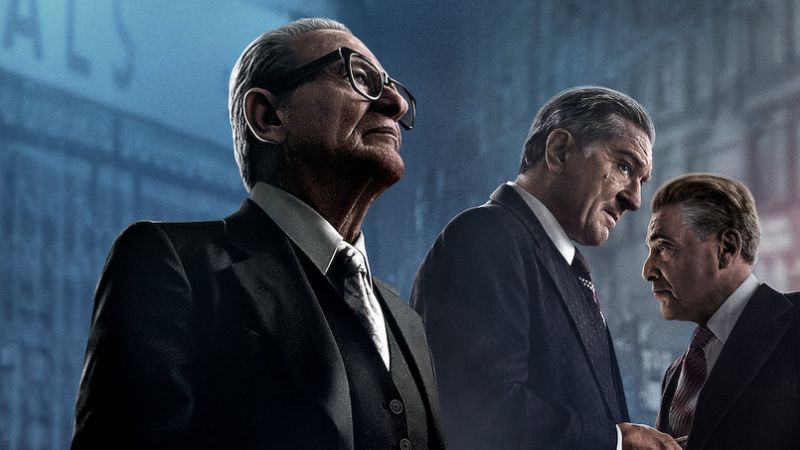 In my junior year in high school, I learned about a man named Jimmy Hoffa. He would help power the worker's unions in America. He was one of the most powerful and influential people in the history of the U.S. My senior year in high school, I would learn that his funding came from the organized crime families in the U.S. Jimmy Hoffa would eventually disappear, and legend has it he's still buried under The Meadowlands (Giants/Jets) stadium. With The Irishman, Martin Scorsese has now delivered a film based on one of Jimmy Hoffa's best friends.
Is this film based on a true story? Not exactly (it's difficult to confirm), but it is based on a book that is pretty accurate as far as history within the U.S. and organized crime goes. The Irishman follows Frank Sheeran, played by the great Robert De Niro. The man wasn't Italian, but he spoke like them, dressed like them, and lived like them. Of course, Irish and Italians are usually Catholics so that was a true bond shared. Frank would meet a man named Russell Bufalino (Joe Pesci), and they would form a bond that was beyond unbreakable.

The movie is focused on an elderly Sheeran telling a story from a nursing home. The story is about Frank's life as a hitman for the mob. He tells of how he moved through the ranks and became apart of the greatest crime family in the nation. He also tells of his relationship with Jimmy Hoffa, and why everything eventually crumbled. All roads eventually lead to a trip Frank and Russell take to a wedding in their elder years.
The screenplay by Steven Zaillian is beyond brilliant. This story keeps you hooked from beginning to end. Yes, it is a three and a half-hour film, but it never gets boring. Everything connects, all of the jokes land, and it reels you in the more the story moves. The cinematography by Rodrigo Prieto was beautiful. Every shot in the film felt meaningful and kept you more and more invested as the film moved. The film was shot with all of the same legendary components as Goodfellas and Casino. Every bit of the cinematography was an important piece of storytelling. The way the screenplay and cinematography work to intricately tell Sheeran's story is one of the most beautiful things I've seen in a film in some time.

The great duo of De Niro and Pesci definitely does it again. Their chemistry may be one of the greatest film chemistries in history. This is their seventh film together, and fourth with Scorsese as the director. The Holy Trinity of gangster movies has made their best film together. Al Pacino as Jimmy Hoffa is absolutely amazing. I haven't seen Pacino this charismatic since he played Scarface. He played Jimmy Hoffa so well I actually believed he was Hoffa. He was every bit of Hoffa that I thought the man would actually be in real life. Anna Paquin (X-Men), as Sheeran's daughter Peggy, was also fantastic. She definitely makes you feel all of her emotions throughout the film. Jesse Plemons (Game Night), Bobby Cannavale (Ant-Man), Ray Romano (Everybody Loves Raymond), and the entire cast help build this film into the beautiful masterpiece that is The Irishman.
Yes, Martin Scorsese has said some very controversial comments as of late, but we can all agree that the man is master of cinema. We may not all agree with his cynical comments towards Marvel (I definitely do not), but he has every right to be cynical. He wasn't the director of the first organized crime film, nor will he be the last, he just may be the greatest though. He has delved into other genres (would be interesting to see him tackle a comic-book film) though he is a master in this genre. We should all give Scorsese his flowers now rather than later. He stands out on his own and has done pretty much anything possible to remain original. We as a community should respect that.

Personally, this is my favorite film from Scorsese. I am definitely on the hype train as far as this being the greatest gangster film ever made. I recommend seeing this film in theaters if you at all get the chance. This experience in itself makes the film grand. The history of the man the film is centered on, in particular, makes this film interesting. The film also includes the feud between Hoffa and the Kennedys which is brilliantly done. As someone who loves history in general but has a soft spot for U.S. history and organized crime, this was special. Almost any conspiracy theory you can come up with has nothing on what author Charles Brandt came up with. They fed off of the myth surrounding Hoffa's disappearance and it's just pure greatness. There is never a dull moment in this film. Even in the less important areas it still feels like every single moment is important.
Rating: 10/10
Have you seen The Irishman? How do you feel? Agree or disagree with the rating? Comment below to let us know!
The Irishman starring Robert De Niro, Al Pacino, and Joe Pesci is in select theaters now, streaming starts 11/27 on Netflix!!!
---
Trending Now