In Defense Of 'Star Wars: The Last Jedi'
Posted On September 7, 2019
---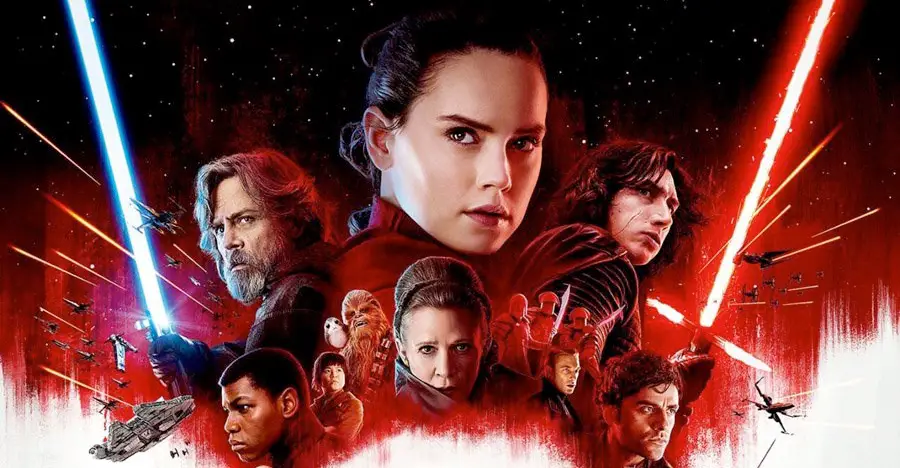 Nearly two years have passed since Rian Johnson's Star Wars: The Last Jedi hit theaters, and we're all still talking about it for one reason or another. Whatever that reason may be, I welcome you here. The Star Wars fandom holds a special place in the world of science fiction aficionados, but we can never quite seem to get along. Admit it, we're a difficult bunch. We're so passionate, in fact, that we're willing to launch insults at each other at the mere uttering of a single sentence that doesn't sit right with us.
Before I go any further, I want to assure you that there will be no hate here brought forth by me. No demeaning, no name calling, or anything of the sort. My goal here is to simply offer some insight into the bold movie Rian Johnson crafted with Lucasfilm, and explain why exactly it captures everything there is to love about George Lucas's beloved space opera. There are number of big talking points, and we'll go through them one by one. So, here we go.
Poe Dameron and the Resistance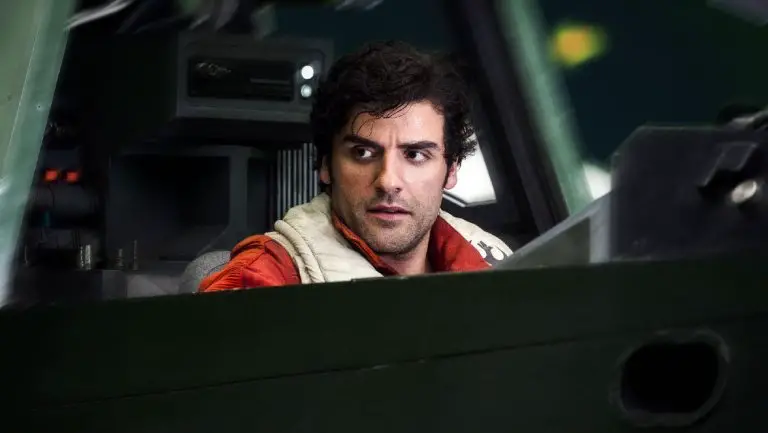 Poe has easily become one of my favorite new heroes in Disney's sequel trilogy. He's confident, experienced, and acts entirely for the benefit of his fellow freedom fighters. I was a bit surprised to find that a lot of viewers walked away from the film with a hatred towards Poe, and an even stronger dislike for Laura Dern's Vice Admiral Holdo. The most common complaint is that Holdo never told Poe about her plan to abandon ship to hide on Crait, and how their conflict could have been avoided entirely had she filled him in.
Poe gets demoted by General Leia in the beginning of the film after he singlehandedly takes down a First Order Dreadnought. It's my belief that if Poe hadn't destroyed the Dreadnought when he did, the Resistance casualties could have been much higher later on in the film. In Leia's eyes, he's made a mistake, and everyone's aware. A number of Resistance soldiers were killed, after all. Once a higher ranking Resistance officer like Holdo comes aboard to clean up the mess, she won't want to bother with the hot headed pilot who wouldn't follow orders. She doesn't fill him in because she feels he can't be trusted, and in any good military operation, that's completely natural. But through his failure, Poe ends up showing Holdo that he's exactly the kind of soldier the Resistance needs.
Poe brands Holdo a traitor, and incites a mutiny against her. His plan to send Finn and Rose to Canto Bight to find the codebreaker may not have been the smartest move, but the Resistance is backed into a corner. Poe took a risk with the odds against him that didn't pay off, but that's the point. He's failed. He's not the military leader he thinks he is, but one day, he could be. He's proved that he's willing to do anything necessary to keep the Resistance alive, and in these trying times, they're the exact kind of soldiers you need. Poe needs to fail so that he can be better.
Like Yoda said, "The greatest teacher failure is." But we'll revisit that quote later on…
Finn, Rose, and the Codebreaker
Finn and Rose's codebreaker quest is one of the most heavily criticized segments in the entire movie for a number of reasons. One might say there are some heavy-handed political messages, but it provides some crucial growth for both Finn and Rose.
Finn is a character longing for purpose. In The Force Awakens, his motivations are entirely personal. Finding Rey is his one single goal, but if he's going to become the Resistance hero Rose Tico takes him for, he needs to see the bigger picture. His time in Canto Bight opens his eyes to the cruelty that the galaxy's leaders are capable of. Through Rose, Finn comes to realize that if they're truly going to win, he needs to be the person she already thinks he is. Fighting for all life is just as important as fighting for one, and Finn's trip to the streets of Canto Bight offers him a fresh new perspective; one that he'll need if he wants to be a true hero.
Rose, however, takes the opposite route. After the loss of her sister Paige, Rose is looking to fill the void left in her life by her death. Her mission now is to protect the dream her sister died for. Rose cares about the Resistance and all of the brave men and women fighting for a better life, but along the way, she learns to care for Finn. Rose latches on to the former Stormtrooper, and cannot bear to lose another friend in the fight against the First Order. She couldn't save her sister, but she goes out of her way to save Finn during the battle of Crait, a move which most certainly could have resulted in her demise.
Rose proved herself as a valuable member of the Resistance in more ways than one. In my eyes, these characters strike a beautiful balance with one another. They've learned to be the soldiers they need to be. Their time together has brought them each just a little bit of peace and purpose, and it wouldn't be a stretch to say that the pair provides a sizable chunk of the film's heart. Though they failed to find the codebreaker, they haven't failed each other. Finn is on his way to becoming the hero the Resistance needs, and Rose will soon be every bit the hero her sister was.
Snoke
A lot of us (myself included) were expecting a big reveal surrounding Kylo Ren's decrepit looking master, Supreme Leader Snoke. As you know, things didn't quite go as we planned. But you know what? That's okay. I was shocked when Snoke bit the dust, but after marinating on it, I didn't mind. Up until this point, we had all come to expect a formula to Star Wars. One-on-one lightsaber duels are a must, the main characters are all related to someone special, or the big bad is a deformed monster with an epic backstory. One of The Last Jedi's many strengths is that it deconstructs the Star Wars formula, and does so unapologetically.
Snoke's purpose was served, and his role is not unlike that of the Emperor in the original trilogy. Before the days of the prequels, Palpatine was nothing more than an ominous presence lurking in Vader's shadow. Though he was made iconic by Ian McDairmid's marvelous performance, we didn't really know much about him–until George Lucas decided to make three more movies that illustrated his rise to power.
As of now, Snoke doesn't have the luxury of an entire trilogy to tell his story. These new chapters should be solely focused on the journeys of Rey, Finn, and Poe. It's my belief that the existence of the prequels has given fans the sense that they need every question answered. But really, what fun is that? Of course, it's absolutely fair for fans to theorize and speculate, and Snoke's grotesque appearance hints at a story waiting to be told. But, maybe The Last Jedi just wasn't the time to tell it. With so much happening in the film already, pumping the brakes to explain the supreme leader's origin really wouldn't make sense for a story like this one.
For what little time we had with him, I'd say he made all the impact he needed to. His berating and abuse towards Ben Solo sends the troubled young man over the edge, allowing him to emerge on the other side as a stronger and more dangerous threat moving forward. Snoke's sudden death adds an extra layer of tension to the already uneasy relationship between Kylo and Hux, setting the stage for what could be an explosive confrontation in The Rise of Skywalker. Perhaps one day, some light will be shed on the character, but for now, I'm completely okay with how Johnson handled Snoke.
Leia
It's unfortunate that in Carrie Fisher's final Star Wars performance, one of her most memorable moments wound up being ridiculed and torn apart by the fanbase. Her Force sensitivity was hinted at way back in The Empire Strikes Back, and we've long waited for Leia to do something extraordinary on screen. To me, she did.
I never found Leia's space survival scene in any way comical. In fact, I found it visually stunning, and we had never seen the Force used in such a way before. To me, the scene illustrates Leia's unwillingness to die when there's still a battle to be fought. She's always been to stubborn type, and nothing has ever been too challenging for her. She's continued to fight on after watching her planet get reduced to atoms. She never gave up when the love of her life was frozen and sold to Jabba the Hutt. She lost her son to the Dark Side, and still lead the Resistance to glory against the First Order. If there is any character in the Star Wars universe that could serve as the physical embodiment of the Rebellion's cause, it's her.
In the film's director's commentary, Johnson likens Leia's big moment to a mother lifting a car off of her own child during an accident. The adrenaline and the pressure to continue fighting takes hold, and you find yourself capable of extraordinary things. Leia's refusal to give in is exactly that. She'll be damned if she allows her comrades to fight on without her, and not even the cold vacuum of space is enough to stop her mighty Skywalker strength.
Rey's True Parentage
I love Rey as a character. Her journey to find a family is one I believe we can all relate to, and it's been a joy to watch her grow from a simple scavenger to a Jedi in training. Since The Force Awakens, the internet was abuzz with theories about her true lineage. Is she a Skywalker? A Solo? A Kenobi, or even a Palpatine? The big question was answered in Rian Johnson's follow up, and the answer was quite simple: she's no one.
Of course, many fans felt as if they'd been robbed, and that the mystery JJ set up in The Force Awakens had been ignored. But was it? Personally, I don't believe Rian Johnson set out to disappoint anyone, and one could say that the question was answered by Maz Kanata herself.
"Dear child, I see your eyes. You already know the truth. Whoever you're waiting for on Jakku… they're never coming back."
Look at this this way: maybe the mystery surrounding Rey's parents wasn't supposed to be a mystery at all. Rather, it could have just been about Rey having to face a cold, hard truth that a young woman like herself would never want to admit. Her parents were filthy junk traders who sold her off for drinking money. To me, an outsider from a far away planet getting swept up in the story of the Skywalkers is far more interesting than the idea of Luke, Han, Leia, or any other character having a secret daughter and hiding her away in a deserted junkyard.
Her having to accept the fact that she is no one special is just as difficult as it was for Luke to learn that Vader was his father, and I feel the truth will propel her forward into greatness, as Luke's truth did for him. Anyone can be a Jedi, and anyone can be a hero. Hasn't that always been in the spirit of Star Wars? Yes, Luke was the son of Vader, but he was also a farm boy stranded in the desert, looking for a way out. Han Solo was a lowlife smuggler. It's not who you are, but what you do. Rey's big reveal is exactly what Star Wars has always been about; taking the ordinary and turning it into something extraordinary.
The reveal even further cements Rey as the opposite of Kylo Ren. Ben is the son of two of the Rebellion's greatest heroes turned Dark Lord who fights for no one other than himself. He's a somebody, whereas Rey is a nobody taking a stand for everyone. Two foes, one light and one dark, locked in a seemingly never ending battle of good and evil. It creates a beautiful balance, and a new twist on the old Star Wars formula that I for one can't wait to see even more of in The Rise of Skywalker.
Not every character has to be connected. Otherwise, Star Wars risks becoming stale, and I know none of us ever want the galaxy far, far away to make us feel exhausted. The stories of the Jedi, the Sith, and the many creatures that inhabit the thousands of worlds around them? They have to evolve. They say the definition of insanity is doing the same thing over and over again, expecting different results. Star Wars should never succumb to that.
Luke
Luke's portrayal, more than anything else in The Last Jedi, was by far the most divisive aspect of the entire film, and that's fair. Right off the bat, I want to say that I believe The Last Jedi is the best Mark Hamill has ever been as Luke. Hamill really got the chance to show off how much range he really has as an actor. I have to give him props for openly disagreeing with Johnson's vision while still giving one of the best performances in the film.
One of the biggest issues many fans had was Luke's attitude. The grumpy, depressed, and broken Jedi master was a far cry from the optimistic and hopeful farm boy we were introduced to oh so many years ago. As for myself, I loved it. I was so surprised and so intrigued as to what made Luke this way. I think it's important to remember that Luke lived 30 years of a life that we haven't seen, and really, I don't think anyone is the same person they were three decades ago. People grow, change, and experience things that shape them forever, for better or worse. In Luke's case, it was both.
The very first thing Luke does is toss his father's lightsaber over a cliff. I think fans are fair criticize Luke's reaction to seeing his old lightsaber after believing it lost for over 30 years. But, in the context of the film, his actions make perfect sense. His choice to turn his back on the Force and the Jedi was embodied in this moment, a choice that was entirely selfless in his mind. The Jedi will die with him, and if the Jedi are dead, then the Sith will cease to exist as well.
Tossing the saber was a surprise, but it does a good job of giving us a glimpse into Luke's mindset. Let me put it this way: Say you're a gun owner, and Heaven forbid one of your family members breaks into the gun safe and fatally injures themselves or someone else. Would you still want a gun in your home? Probably not. Do you think Luke would still want a lightsaber on his person after a swirl of emotions in the Force caused him to raise one to his young nephew? I'd imagine he wouldn't. The Last Jedi makes a choice to tell us the story that isn't about Luke Skywalker the legend, but about Luke Skywalker the man.
The Luke we meet in The Last Jedi is one I think was necessary. I didn't want to see a flawless, all powerful Luke, because I just don't find that interesting. Would it be cool to see an aged Luke Skywalker rip a Star Destroyer out of the sky with the power of the Force? Absolutely, but I'd much rather see a Luke Skywalker that's troubled, conflicted, and human. A Luke that feels he's failed. Rian Johnson built a lore that adds an entirely new dimension to Skywalker, and his history with Ben Solo is one of the most tragic stories of any character in the saga.
Being the only Jedi master left in the galaxy, it's Luke's job to snuff out any inkling of evil creeping back into play. Looking into his nephew's mind, he can see all of the pain, destruction and death the boy will bring upon everyone he loves. In a moment of pure instinct, Luke readies himself to end it once and for all, but immediately stops himself from doing so. He cannot bring himself to end his nephew's life. Here, we get to see Luke at his most vulnerable. Despite the many stories and legends spread about him over the years, the legendary hero of the Rebellion is still human. He made a mistake, and it cost him everything. He's failed, and Ben has failed him.
I'd like to point out that Luke never actually tried to kill Ben either. He ignited the blade, yes, but lowered it in shame almost as quickly. He never swung, and even admits to Rey how disgusted he was with himself. Now, is it fair to criticize a character when he's already criticized himself? He's aware of his failure, and he's aware that he's not the legend the galaxy believes he is. Yet, part of the Luke we know is still buried within that grumpy exterior. He won't fight his nephew, just as he refused to fight his father in Return of the Jedi. His redemption during the film's climactic battle helps make for one of the most wholly satisfying character arcs in the film, or in any Star Wars movie.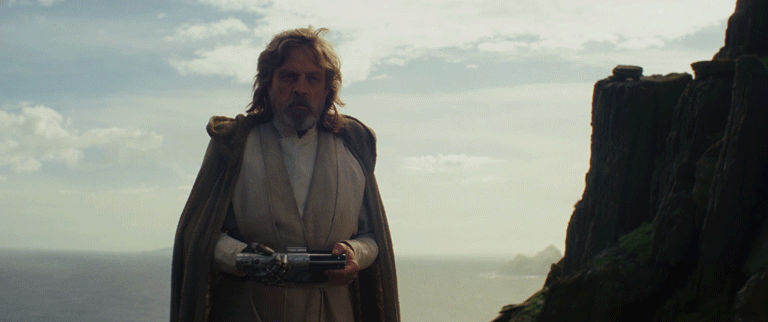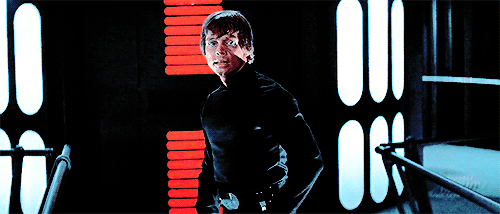 The Last Jedi was a different flavor, but Rian Johnson still managed to hold true to some core Star Wars fundamentals. Luke's face-off with Ben made for an epic (and beautifully shot) conclusion, and it gave a nice nod to the Samurai films of old that inspired George Lucas' original vision for the franchise. In a display of incredible power, Luke distracts his nephew by using a Force projection while his physical body is planets beyond planets away. Impressive, but there's a bit more to this moment than meets the eye. Just as before, Luke refuses to fight his young nephew, and he instead heroically gives his life so that the Resistance can escape.
"A Jedi uses the Force for knowledge and defense, never for attack." -Yoda
The Last Jedi absolutely does honor the original trilogy, and lovingly so. Luke does what any true Jedi would do. Yoda's wisdom and guidance never truly left Luke, and the lovable green Force master shows up one last time to drop just one more bit of knowledge onto him.
"The greatest teacher, failure is."
You see, The Last Jedi isn't about letting the past die, as the marketing might have you think. It's about learning from your failings, and becoming better because of them. Poe failed Leia. Finn and Rose failed to find the codebreaker. Rey failed to redeem Kylo. Luke failed his nephew, and his nephew failed him. Despite the many mistakes they've made along the way, our heroes still succeed, and they overcome the odds they've set against themselves to be even better than they were before. These characters, like us, need to fail so that they can learn, grow, evolve, and find the peace and purpose they're longing for.
The Last Jedi isn't for everyone. No single movie is for everyone. This film, however controversial it may be, represents everything I love about the galaxy far, far away. I hope that in time, it will earn the love and praise from the fans that I believe it deserves. Thank you all for taking the time to read the ramblings of an average everyday Star Wars fan. Enjoy the many more films, shows, comics, and content coming our way from Lucasfilm over the next few years.
May the Force be with you.
---
Trending Now