'Ahsoka' Season 1, Episode 3 Recap/Review
Posted On August 29, 2023
---
This is a spoiler review for Ahsoka Part III, "Time to Fly". To read the review for Parts I and II, click HERE.
In the last episode of Ahsoka, Sabine and Ahsoka were reunited as master and apprentice under one mission, stop Thrawn and bring back Ezra. They take off to the Denab system to find the hyperspace engine from the last episode, and on the hyperspace journey, begin anew Sabine's Jedi training. The training sequence with Ahsoka (Rosario Dawson) and Sabine (Natasha Liu Bordizzo) hearkens back to many a moment not just in The Clone Wars and Rebels, but also in the original trilogy. It even brings in new elements to the training, continuing to honor the Japanese elements George Lucas pulled originally for Star Wars. It's not a heartwarming scene by any means, but it does build confidence in their relationship. Sabine lashes out in anger a couple of times, but ultimately, she knows what she's here for – it's Ezra. This helps her maintain control.

After the weapons training session, we still get some training elements. If you haven't seen Rebels, or really even The Phantom Menace, Ahsoka rehashes the idea that the Force is in everyone. Some people are born with more talent than others, but anyone can access the Force. If they have the right discipline, that is. The whole time in the background with both of them, or just with our favorite non-Jedi, Huyang (David Tennant) is basically reinforcing Sabine's probably not the right person to fit in with Ahsoka. Now, you might say Huyang last episode was very supportive of Sabine being Ahsoka's apprentice. I would like to point you to The Clone Wars season 5, episodes 7-10, and they will help you see this is just who Huyang is.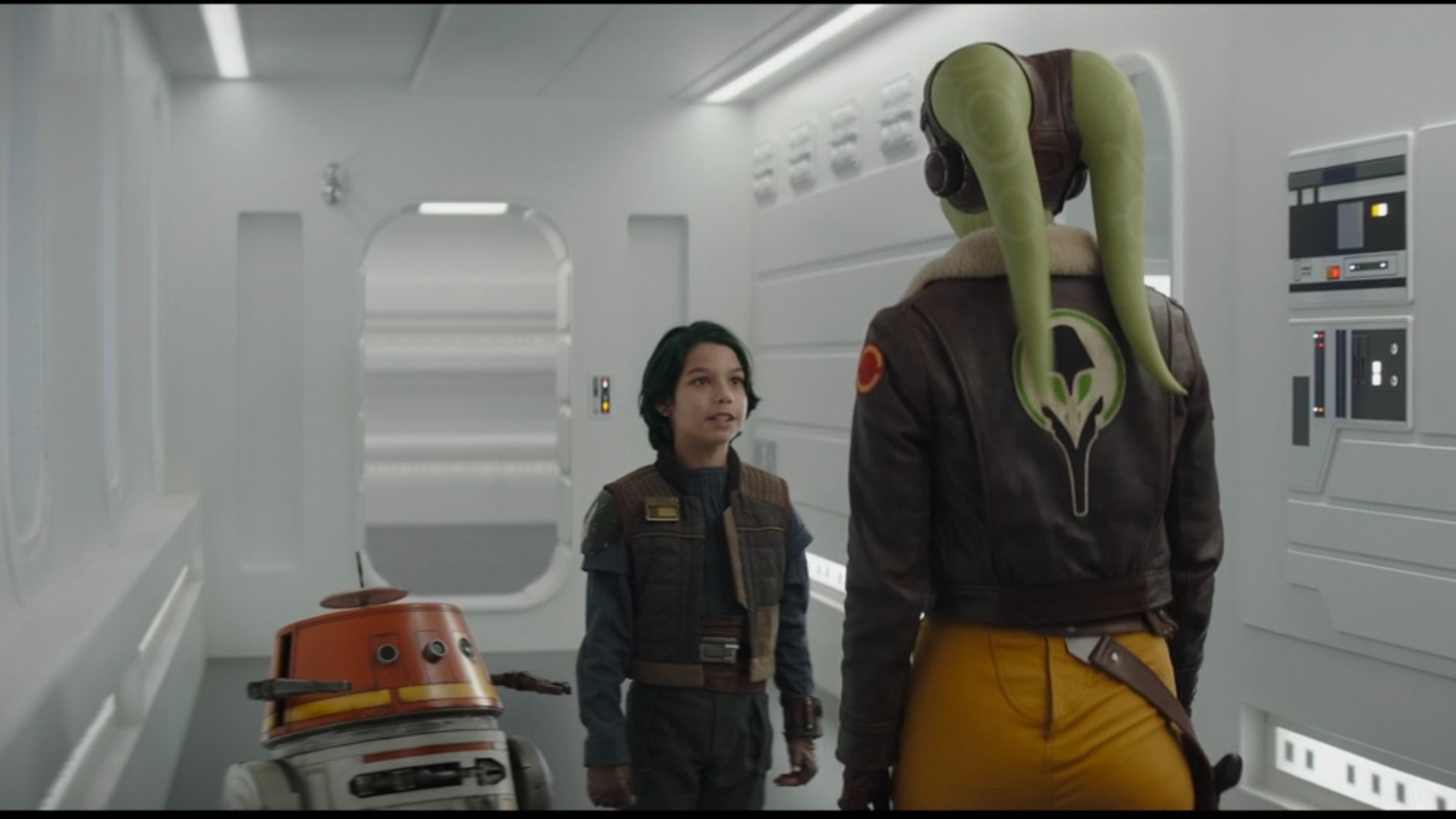 Hera (Mary Elizabeth Winstead) does make an appearance in this episode as well, asking the New Republic senate council, led by Mon Mothma (Genevieve O'Reilly) for permission to take her fleet to the Denab system to assist Ahsoka. This is met with very strong opposition by the senators on the council, though we do not hear Mon Mothma's thoughts. Ultimately, Hera is told no. They believe she has taken the fleet on too many personal vendettas, and would like to spend that money helping the people of the "fledgling" New Republic. Hera has to report this news to Ahsoka and Sabine, but not before we get to see Jacen Syndulla (Evan Whitten) and Chopper together. Chopper has apparently told Jacen that Sabine is going to be a Jedi, and Jacen wants to join her. I know that breaks Hera's heart slightly with Kanan's death in Rebels.

With the news that Hera and the New Republic will not be joining them, Ahsoka, Huyang, and Sabine carry on and find their communications blocked entering the Denab system. What follows is a dog fight, with some continued relationship building for Ahsoka and Sabine, but really not much depth to the fight otherwise. The visual effects look superb, and I could really find no flaws. Despite that fact, the excuse that Sabine was rusty behind the trigger just doesn't make a lot of sense to me. She has the instincts, it should have kicked in more. Maybe if they had played into the Mandalorian roots a little, got her frustrated, and had Ahsoka then open up, and work with Sabine, that maybe would have worked a little better.
After Sabine knocks out one squadron of ships, Morgan (Diana Lee Inosanto) takes over from her super Hyperspace ring, and drops her payload on the Fulcrum. It does knock the ship down, but not before Huyang gets a full reading. Ahsoka then gets a chance to do what Anakin loved to do in The Clone Wars and that's fight in a space suit. She's able to take out one of the ships with the Fulcrum down. Sabine manages to get the ship powered back, and they take off, trying to hide from Shin (Ivanna Sakhno) and Marrok (Paul Darnell).

The crew runs into a swarm of purrgils, and are able to make their way down to the ruby red forest. Huyang is able to confirm the ring is a giant hyperspace ring, potentially capable of crossing galaxies. He also informs the audience that the purrgils were known for making jumps across galaxies according to the Jedi archives. The episode ends with a glance at Baylon (Ray Stevenson) at the site from the last episode, and ordering troops into the forest to search for Ahsoka and Sabine.
This week's Ahsoka largely capitalizes on building up the relationship between the titular character and Sabine. Director Steph Green does a fantastic job with handling their dynamic. The only true downside of the episode lies in the dogfight, there's just not enough excitement in it for me. Sakhno's Shin still feels rather wooden to me as a character, so that also did not help with the dog fight, as she plays a major part in it.
I love getting to see Ahsoka build Sabine up as a warrior, as a Jedi. She has always been meant to be a mentor (see referenced Clone Wars episodes above), so I feel like she's in her element. Ahsoka continues to provide callbacks to the Star Wars that has come before, and I love it. It's still a slow burn, but this series show continues to be the project Star Wars fans have been waiting for. –Katie Rentschler
Rating: 8/10
The first three episodes of Ahsoka are available on Disney+ now.
---
Trending Now