'Emancipation' Review: "The Power of Silence"
Posted On December 6, 2022
---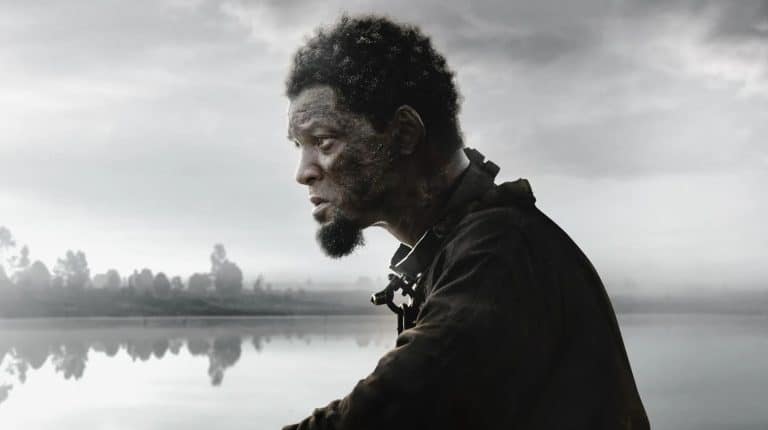 Earlier this year, Will Smith earned his first victory at the Academy Awards. However, the moment, despite being well-deserved and long overdue, was overshadowed by his now-infamous slap. The incident called into question the future of Smith's already illustrious career. Thankfully, the stink of that moment seems to have blown over just in time for Emancipation, which sees him deliver one of the most powerful performances of the year.
Directed by Antoine Fuqua and written by William N. Collage, Emancipation is based on the true story of Gordon (named Peter in the film). Gordon was a slave who had photographs of his scarred back from years of enslavement published worldwide in 1863. This provided proof of the cruelty of slavery and turned the tide for the abolitionist movement. The film is an uncompromising, no-holds-barred, brutal depiction of the cruelty of slavery in America. Moreover, it creates a character driven by nothing but his faith and his desperate need to reunite with his family.

After being ripped from the arms of his loving family, Peter (Smith) is hell-bent on escaping the clutches of his oppressors. In nearly every single second he's on screen, Smith puts on an absolute clinic. His ability to express the character's thoughts using his eyes, his facial expressions, and his body language is absolutely thrilling. His trek through a maze of dangerous swamps and a pursuing militia of racists allows Smith to display pain and sadness, desperation and anger, relief and hope.
Smith gives one of the greatest, most powerful performances of his life and carries the film on his back. However, he pulls off this feat of incredible acting prowess by utilizing the power of silence. The film stands out as something truly special with the constant quiet contemplation of what Peter must do next for his best chance of survival.
One of the best features of Emancipation is the sprawling, Louisana swamp landscape. The sheer brute force of the villains emerges through a vicious slave hunter named Fassel (Ben Foster). However, not only must Peter survive the wrath of those that mean him harm, but he must also battle the elements. Throughout the film, the tension remains high due to how daunting the journey is.
There are acres and acres of swamplands that stand between Peter and freedom. Fuqua, best known for big-scale action flicks, is able to find tense terror in damn near every blade of grass. The story feels real due to the impressive backdrop that accurately depicts what the enslaved had to endure in order to gain their freedom.

By the final act, it feels as if the viewer has gone on their own exhausting journey. While the runtime offers Smith's nuanced performance time to become fully realized, there are moments where it overstays its welcome. Additionally, a subplot in which the team of slave hunters employs a Black former slave doesn't quite pack the intended emotional punch.
Emancipation resolves itself with what should feel like a happy ending. However, it comes following a grueling and hard-to-watch road that features horrific acts of inhumanity. Once one remembers this is simply an adaptation of what men, women, and children had to go through for 400 years, it makes it all the more difficult to get through. However, Smith delivers one of the finest performances of his career and reminds audiences that he is a force to be reckoned with when given a role he can truly sink his teeth into. – Christian Hubbard
Rating: 8/10
Emancipation will stream on Apple TV+ Friday, October 9th. 
—–
Did you enjoy this article? If so, consider visiting our YouTube channel, where we discuss the latest and greatest in pop culture news.
---
Trending Now