'Confess, Fletch' Review: "A Hilariously Killer Reboot"
Posted On September 16, 2022
---
Irwin M. "Fletch" Fletcher is an idiot, but he's an idiot who might also be the smartest man in every room. He might be clumsy, squeamish, and condescending but the man is "controlled chaos" personified. This type of role was built for a comedic actor such as Chevy Chase in the 80s, a role that is now synonymous with Chase himself. It would be an impossible task to try and imitate what Chase did back then. This was clearly at the forefront of the minds behind Confess, Fletch, a modern reboot based on the character created by Gregory Mcdonald. Gone are the silly costumes and over-the-top names, but the wise-cracking, lovable rogue is still there.
The film sees the former investigative reporter (Jon Hamm) retired and living in Europe with his new girlfriend, Angela (Lorenza Izzo). Fletch becomes wrapped up in a plot involving stolen art, a gold-digging stepmother, and a murder investigation in which he is the main suspect. The film is directed by Greg Mottola (Adventureland, Superbad), whose distinct brand of subtle comedy is present throughout. Mottola's balance of zany characters, multiple mysteries, and an untested comedic leading man in Hamm is a huge task he was clearly up for.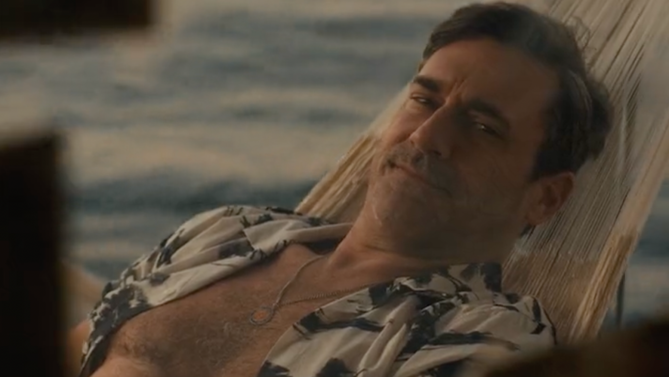 Despite being best known for his star-making role in Mad Men, this is the role Jon Hamm was born for. Confess, Fletch is as much a Jon Hamm film as the original Fletch was a Chevy Chase film, and it's better for it. Hamm has a suaveness about him that just draws you in. He commands every scene, even if he's a passive listener with his bare feet on the table. Every other line of dialogue is a zinger or quip that lands much more often than it doesn't. Hamm's Fletch feels much more disheveled and on the back foot throughout than the original. He has a vulnerability about him that he hides through sarcasm and witticisms. Despite his deflections, he's a man with a solid moral compass and a good heart, even if a stiff drink usually drowns it out.
Confess, Fletch hooks you with Hamm's charismatic performance, but the supporting cast keeps you invested. Kyle MacLachlan (Dune, The Flintstones) has a nearly scene-stealing performance as a Boston art dealer under Fletch's watchful eye. He could have played the character as pompous or overtly arrogant, which at times he is! But MacLachlan makes the character feel three-dimensional in ridiculous ways you wouldn't expect. Annie Mumolo (Barb & Star Go To Vista Del Mar) plays the "pot-head" neighbor to the townhouse owner where Fletch is renting. Mumolo cranks up the troubled, middle-aged woman to an 11 and the film is all the better for it. Other standouts were Roy Wood Jr. (The Daily Show) and Ayden Mayeri (The Afterparty), a veteran and rookie detective. Mayeri especially will seamlessly go from staring daggers through Fletch to laughing about how long a pig's orgasm lasts in a matter of seconds.
The film follows a very formulaic plot structure: an investigator attempts to solve a couple of different mysteries by interviewing those closest to the victim(s). Confess, Fletch doesn't break any new ground in the murder mystery genre, but it's not trying to. Instead, it succeeds as an entertaining romp with a skilled comedian at the center. Though predictable in a couple of its resolutions, Confess, Fletch finds other ways to surprise its audience. However, the film slowly loses steam in the third act. We see all suspects and characters inexplicably show up at Fletch's rental home to remind you of their presence. The film is trying to emulate Knives Out by showing off its colorful cast. This leaves little room for Fletch to solve anything; instead, he's along for the ride to the big reveal.
Confess, Fletch is an impressive balancing act that gets better upon reflection. It not only balances multiple genres and sub-genres of entertainment but also gives each supporting character a moment or two to shine. It also finds a way to balance ear-shattering EDM music with New Americana jazz. Jon Hamm might not have been at the top of many people's list to take over the role of Irwin M. Fletcher, but I'm sure glad he did. Hamm's interpretation deserves a sequel or two (as well as an exclusive run in theaters, but I digress). Seeing Jon Hamm and John Slattery reunited, even for a few scenes, should make many Mad Men fans happy. Here's to hoping they reunite once again in a sequel. Cheers. – Kellen Murack
Rating: 8.5/10
Confess, Fletch is now playing in theaters and VOD.
---
Trending Now