Top 5 Things I Want To See In The 'Mario' Movie
---
Illumination's Mario movie is set to hit the big screen this holiday season. With decades of games and lore that the creators can pull from, I thought I'd go through the Top 5 Things I'd like to see in this upcoming animated adventure!
Every member of Full Circle Cinema shares the views expressed in this article.
We are One. We are Legion.
EDITOR'S NOTE: No, the f#ck we aren't.
A Reference To Super Mario Ball
Mario has a rich history of jumping between genres. Whether it's the racing genre with Mario Kart, the party game with Super Mario Party, or even the sports game genre with Mario (Soccer, Tennis, Baseball, Basketball, Baseketball, Juggling, Boxing, Golf, Hotel Management, Olympics, Winter Olympics or Running), however, his most underrated game would have to be Super Mario Ball (Mario Pinball Land for those of you in North America). The plot revolves around Mario and Princess Peach on a trip to the funfair, Princess Peach gets kidnapped and Mario, instead of running after the culprits, decides to turn himself into a ball using the "Spherasizer" and thus placing Peach's eventual rescue into the hands of God because Mario is no longer in control of his body.
This loss of control could play into the Mario film so well. Have the plumber on a downward spiral. (Why is he on this downward spiral? See Reason #5.) He has started experimenting with more pungent mushrooms; he isn't eating his pasta ravioli 🤌and mentally finds himself in the wrong place. While at his lowest, he turns to the camera and says, "I wish I were a pinball." This would set the tone for his eventual comeback.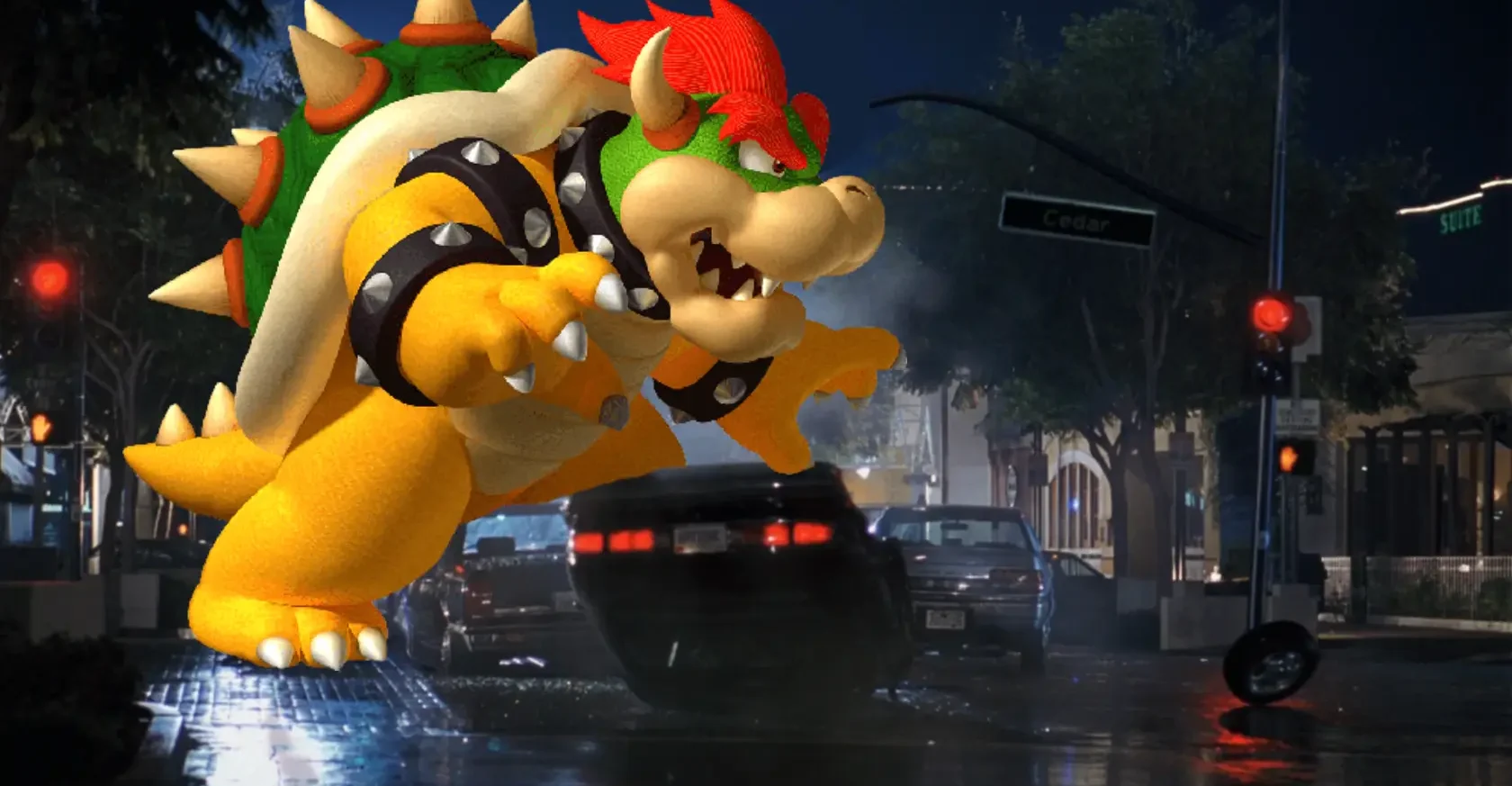 Bowser Recreating The Rampaging T-Rex Scene From 'Jurassic Park 2'
Not many people know this, but they made a Jurassic Park 2, which was pretty good. One of the most unhinged scenes in the entire film was when Stevie The T-Rex (I coined that name myself) stampedes through the streets of San Diego. This bonkers display of past and present colliding is easily the most memorable part of the film. With that, something else most people don't know is that Stevie™ was inspired by Bowser. It's included as an exclusive in the HD DVD Commentary. Here's a transcription of the quote:
Alfred the Dinosaur: "I thought my character [Stevie™] was after something. Steven [Spielberg] gave me minimal direction as I was not the "star." So I looked elsewhere. I began looking into other famous dinos and why they did what they did. Bowser was by far the stand-out. I thanked him in what would have been my Oscars Speech. Would you care to hear the whole thi……"
Princess Peach Grinding Up Power Stars To Keep The Toads Compliant
This one is deep-cut for sure but will have die-hard Mario fans screaming in the theater. In the Argentinean novelization of Dr. Mario, there's a section on what is done with the various Power Stars Mario has collected over the years. In the novelization, Princess Peach's Father (Dimitri, but he also went by Princess Peach) discovered that the Power Stars could destroy a being's sense of self if ingested regularly. He began an underground Power Star processing ring where he would take the stars, grind them up and feed them to the inhabitants of his kingdom. After enough time had passed, The Toadstools (as they would be later named) became malleable, and the King put their species to work.
Princess Peach continued this long-standing tradition, not out of a want but out of a need. The Toadstools not only ran her castle but, under her guidance, created a thriving utopia in which all residents were happy. Princess Peach could no longer collect the Power Stars following a terrible diagnosis with an incurable ailment (gout). She devised a plan: trick her simp plumber into collecting the stars for her. She worked out a deal with the neighboring kingdom's ruler, King Koopa (Bowser). He would repeatedly "kidnap" her and force the plumber to rescue her—along the way, collecting Power Stars that he would eventually give to the Princess. Peach would then split the Stars evenly with Bowser.
This went on for years until Mario's brother became suspicious. Bowser and Peach concocted a new plan: during one of their "kidnappings," they would employ another fellow ruler, King Boo, who would take care of the Luigi situation. King Boo trapped the Italian🤌 in a mansion and doused him with a Power Star aerosol for days. They released him from the mansion after his spirit was fully broken. Under the guise of PTSD, "Dr." Peach continued to prescribe Luigi "anti-depressants" to help him cope with his experience. She has had Luigi under her thumb for years. This is why Luigi can never beat Princess Peach in Mario Kart. Because she's a cheater.
That'd be cool to see in the Mario Movie.
A Map To Alfredo Spaghetti's 🤌 Treasure
One of the strangest Italian🤌 folklores is the Legend of Alfredo Spaghetti 🤌 and his lost treasure. He and his crew left Sicily 🤌 on a 49-day trip to deliver his family's  mar-🤌in-🤌ar-🤌a recipe to the settlers in Antarctica. He never arrived, and his family's secret recipe died with his second cousin.
Alfredo's treasure could redefine how pasta is served. It could revolutionize Olive Gardens across the globe and could even cure seasonal depression! In the game Mario Artist: Communication Kit, there is a plate of spaghetti 🤌 next to Mario's easel, and it's rumored that the marinara🤌 sauce was encoded after Alfredo's family recipe. This means that Nintendo's minds are aware of the formula that they could encode it down to a pixelated level. Those bastards know where to find it, and they're being selfish.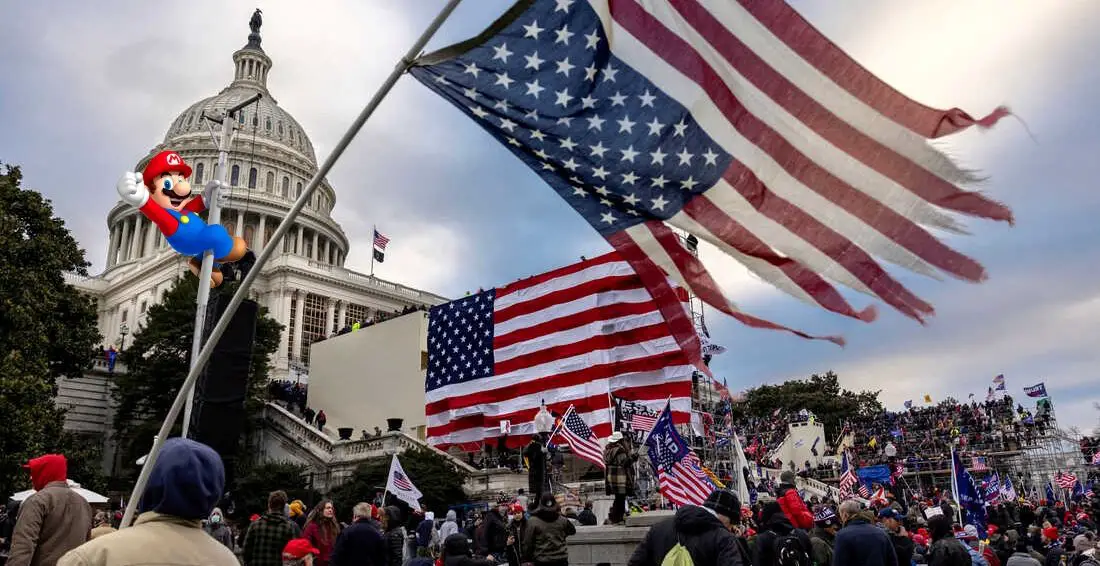 Mario and Luigi Filing Chapter 7 Bankruptcy On Their Plumbing Business After Their Involvement With The January 6th Riots And The Negative Media Attention It Attracted Due to Luigi Instagram Living The Entire Event
Mamma-Mia. 🤌
Untitled Mario Movie releases on December 21, 2022.
—–
Did you enjoy this article? If so, consider visiting our YouTube channel, where we discuss the latest and greatest in pop culture news.
---
Trending Now